Apparat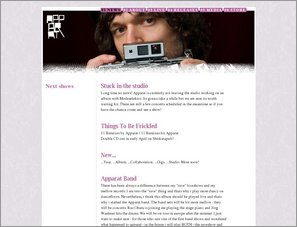 This apparat is one with flexible functions, and its sound is as eclectic as its musical horizon is broad. Its emotional chip features an option on happiness and its sound waves are able to tear your heart apart. While sensitively orchestrating his chamber musical qualities on his records or in his studio, his live performances are known for kicking some ass! He can also proudly refer to a John-Peel-Session and is sporadically working with Gianna Nannini on a Rock Opera.
Sascha Ring, aka Apparat, regards his moving out of the East German provincial backwater to Berlin in 1997 as one of his best decisions ever made. Since 1999 he runs, together with T.Raumschmiere, the Berlin based record label "Shitkatapult" – a venturous music catapult that dashes a wild mixture of intentional great music onto the turntables of the world.

On the website you can find biography, discography, news, tour information, pictures, videos and more.


Date Added: Dec 31, 2008 Visits:

66
© 2023 IsraTrance.com