Axel Mundi Music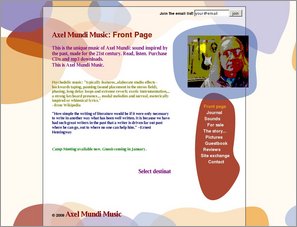 Axel Mundi, a veteran of the Seventies literary counterculture and survivor of the Nineties Seattle Music Scene, is a genre-free sound artist working from his home studio on the Kitsap Peninsula in Washington State.

In the early 1970s, in Salt Lake City, he co-founded Babylon Theatre, an audio dramatic collective that performed at literary events in the underground poetry scene, and recorded unique improvised word-plays.

In the 1980s, in Seattle, he developed a style of drone trance music with his bass clarinet, influenced by his study of meditation and of ancient music traditions. He performed this ritual music for individuals and groups, publicly and privately, and lectured on the subject.

This led directly, in the 1990s, to co-founding the trance-rock trio, Diamond Fist Werny, which become one of the city's most popular club acts.

Now, in the 2000s, comes unique new music from Axel Mundi: sound inspired by the past, made for the 21st century.
Date Added: Jan 5, 2009 Visits:

13
© 2023 IsraTrance.com