Echoes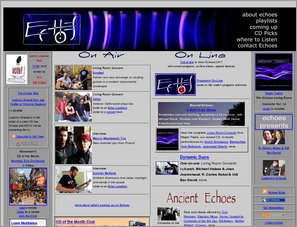 "It's a soothing, out-of-body tonic, a slow drip of acoustic and electronic soundscapes."-Philadelphia Inquirer

ECHOES, is a daily two hour music soundscape, distributed by Public Radio International and currently heard on over 130+ radio stations across the country including New York City, Philadelphia, Cincinnati, St. Louis, Pittsburgh, and Orlando . Echoes is also on the web, with streaming 24/7 and on demand audio and XM Satellite Radio (ch.133). In 20 years of broadcasting, ECHOES has charted a course through the modern music landscape and has been the home of artists negotiating the twists and turns of a new 21st century sound.

Echoes is hosted by John Diliberto, a writer for Billboard, Pulse, Jazziz, and Amazon.com. He brings together electronic, space music, world fusion and ambient music. In addition to the many recordings heard on the show, ECHOES produces artist interviews and live performances, including Brian Eno, Steve Roach, Ulrich Schnauss, The Orb and Air.
Date Added: Nov 20, 2008 Visits:

307
© 2023 IsraTrance.com