1 - 2 of 2 results:
Megalopsy
Megalopsy.com.ar ::.
Official website for Megalopsy, a psychedelic exploration born in Buenos Aires, Argentina.
Date Added:Nov 27, 2008 Visits:131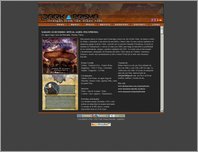 Dark Prisma Records
Psychedelic soundscapes from The neverending Void, label based on Argentina, home of artists such as Megalopsy, Frantic Noise, Pandora's Box, Glosolalia, Will O' Wisp.
Date Added:Jan 25, 2009 Visits:918