1 - 2 of 2 results: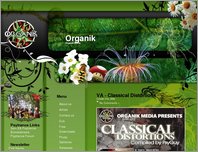 Organik Media
We are a production company and record label from Cape Town, South Africa. We run the longest running weekly Psynight in South Africa along with hosting outdoor festivals in summer and large indoor events in winter. We also have a regular release schedule
Date Added:Nov 1, 2009 Visits:262
ANDEAN TRIBE RECORDS
At the end of 2007 begins a new era with the creation of Andean Tribe which includes a great variety of members coming from all over the world and cultures.
Date Added:May 9, 2010 Visits:171