Fluid Motion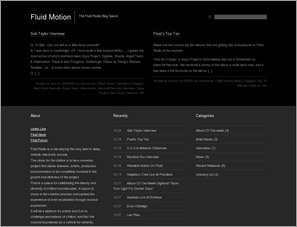 Fluid Radio is a site playing the very best in deep, melodic electronic sounds.
The vision for the station is to be a universal project that allows listeners, artists, producers and promoters to be completely involved in the growth and direction of the station.
Fluid is a space for celebrating the beauty and diversity of chillout soundscapes. A space to share in the creative process and spread the experience of inner exploration through musical expression.
It will be a platform for artists and DJs to challenge perceptions of chillout, and blur the musical boundaries as a vehicle for serenity, excitement, pleasure and adventure.
Music will be diverse, encompassing Ambient, Atmospheric Breakbeat, Digi Dub, Dub, Electronica, Ethnic Chill, IDM, Psy Chill, Shoegaze and many other spiritual sounds.
There will be guests (producers/DJs/artists) on the site providing interviews, insight on new projects, live mixes, production tips and much much more...
Date Added: Oct 24, 2008 Visits:

393
© 2022 IsraTrance.com