Blunt Beats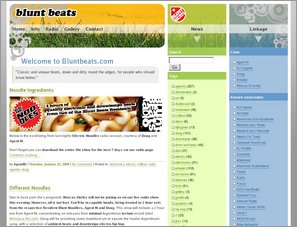 The Blunt Beats family, collectively, have some of the most diverse and wide-ranging music you'll hear in one place.

For all of us, music is a passion. Something we love. Something we do every day, and have done for years, and its something, in essence, that brought us all together. We're from a variety of musical backgrounds. It's our musical diversity which makes us what we are -old school acid house veterans, indie DJs, junglist children, hip-hop heads and reggae selectas all came together bringing their northern soul, funk and jazzy beats along for the ride.

At the end of the day, we all have one thing in common. The groove. The desire to pull the right cuts from the crates at the right time, and make the heads nod and feet move.

Basically, we're in to all kinds of music, so long as it's quality! With so much music out there, people get blinkered by one style, or don't take the time to sort the good stuff from the bad stuff. We look at our tunes with an open mind, across a weird and wonderful spectrum, both individually and collectively. We pride ourselves on being able to provide top-notch tunes that you just wont hear anywhere else, mixed with the most monumental block-rockin' tunes of our time!


Date Added: Jan 25, 2009 Visits:

206
© 2022 IsraTrance.com