Dead Tree Productions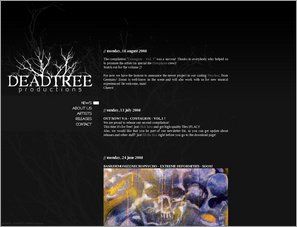 Dead Tree Productions is an independent label whose main base is located in Brazil, in the city of Goiania, Goias. The label aim is to release projects that produce psychedelic, experimental and obscure Trance, with concept, intelligence and harmonic sounds.

The Dark Psychedelic Trance scene in Brazil grows day by day, but it is still small and private. Along with this new-born scene, new projects came up with good ideas and great quality that sounds really different from those who produce using the same formula.

The intention of helping the brazilian scene to develop, grow and to become world-widely known came up after analysing and living it since its beginning. This label was created with a straight goal which is what the founders are looking for when it's up to the musicality: the music must have obscure elements.
Date Added: Nov 22, 2008 Visits:

163
© 2021 IsraTrance.com