lockloadplay - Psychedelic Trance Radio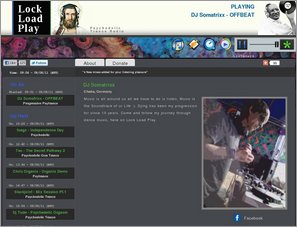 Lock Load Play is a advert free online radio station that specialises in providing its listeners with
Psychedelic Trance music mixed by talented deejay's and artist's from around the globe. The station
was founded in late December 2010 and has steadily grown since. The aim of the station is to
constantly provide you the listener with high quality mixes that have been hand picked for your
listening pleasure and psychedelic needs. When listening you can expect to hear a varied selection of
Psytrance styles such as the more empathetic sound of Progressive Psytrance, the adrenaline pumping
sounds of Fullon Psy, the mind twisting shimmers of Dark Psytrance, and the obscure vibrational sound
of the up and coming Forest Psytrance. Whatever your tastes there should be something that you can
get down too.

Date Added: Aug 8, 2011 Visits:

703
© 2023 IsraTrance.com