Randay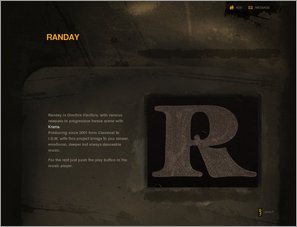 Dimitris Violitzis is producing since 2001 from Classical to IDM. With this project he brings slower, emotional & deeper, yet always danceable, music. Certified music technician with releases on Zillion Mental Anarchy, Yellow Sunshine Exposion, Plusquam Records , Midijum Records and an album on Vertikal Records.
Every track has a different story, multilayer drum patterns, deep melodies and a aiming to revive some styles like minimal trance.

That's all about Randay. Hear the music, feel the music, and dance to it in a rain day.


Date Added: Dec 8, 2008 Visits:

81
© 2023 IsraTrance.com