Seroxat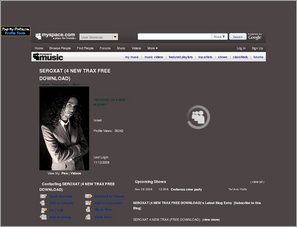 Seroxat is Ofer Maoz from Israel.
The music of seroxat is all about aggresive melodic trance twisted sounds and brutal beats combined with
guitars and vocals .
The Style is ranging from Psychedelic trance to metal , classic music and opera.
Seroxat have been played all around the world in places such as Japan,
Brazil,Belgium,russia,Germany,Greece,Cyprus,macedonia , At the Full moon festival in Germany , Freedom
Festival In portugal , And At the Famous Club Zepp in osaka Japan.


Date Added: Oct 31, 2008 Visits:

1634
© 2023 IsraTrance.com