Ninja Tune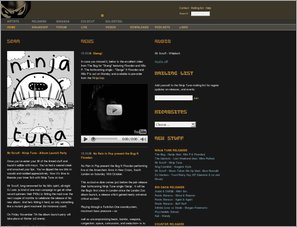 Ninja Tune is a London-based independent record label started in 1991 by DJs Matt Black and Jonathan More, better known as Coldcut, with a strong leaning towards electronic, abstract hip hop, instrumental hip hop, nu jazz, drum and bass, and chillout music.

The label has developed a number of DJs, producers, and live acts. Ninja Tune's sister imprints, Ntone (now defunct) and Big Dada, specialise in experimental electronic music and hip-hop, respectively. The label has a satellite office in Montreal, Quebec, owned and managed by Jeff Waye. Among Ninja Tune's famous artists & DJs along the years:
Amon Tobin, Bonobo, Coldcut, DJ Food, Flanger, The Herbaliser, Hex, The Irresistible Force, Kid Koala, Mr. Scruff, Roots Manuva, Mixmaster Morris.



Date Added: Oct 1, 2008 Visits:

823
© 2023 IsraTrance.com