Open Records Australia Official Website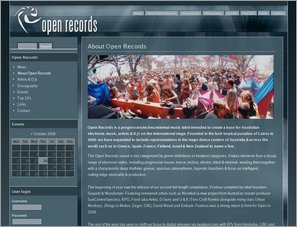 Featuring artists such as Antix/Fiord, Wombat/SunControlSpecies, RPO, David Weed, D-Sens and many more, Open Records is one of Australia's leading exponents of progressive music.

Open Records features of a strong team of Aussie DJs and artists from around the world, and runs a monthly club night in their home town of Cairns which has featured the likes of Dousk, Kasey Taylor, Fiord, DJ Schwa, Lutzenkirchen and many more.

Open Records will continue to strive to bring the best of progressive, techno, minimal and tech-house to global dancefloors, with a simple philosophy of "music first" guarenteeing each releases is of the highest quality - paving their way to make their mark of the international stage.

Open & Out!


Date Added: Oct 14, 2008 Visits:

508
© 2023 IsraTrance.com