Release Music Magazine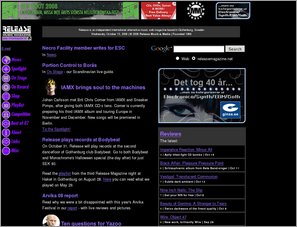 Release is an independent international electronic and alternative music web magazine based in Gothenburg, Sweden.

Release Music Magazine was the printed version of this web magazine - one of the leading Swedish magazines for our music since 1986! The magazine was written in Swedish and contained features, reviews, news, classified ads, tour guide, letters, playlists and more. We printed 10 000 copies and had distribution all over Sweden. Release could be found in newspaper stands, supermarkets, gas stations, libraries, record shops and so forth. A substantial amount of our readers were subscribers. Since August 1998, We have focused on the large, international, free, always accessible web version of Release in English, with more readers and better potential.

You can find on Release news, reviews of CDs & shows, interviews, competitions, playlist and more.



Date Added: Oct 2, 2008 Visits:

546
© 2023 IsraTrance.com