Trance Life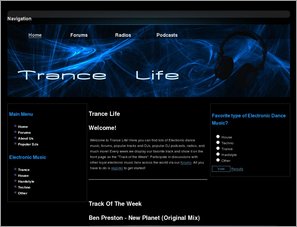 Trance Life is a community of electronic music fans. Here you can find
tons of great Trance, House, Hardstyle, and Techno music. Discuss Trance,
DJ's, electronic music, DJ / Dance events, DJ podcasts (such as Trance
Around the World), DJ equipment, headphones, etc. You can even promote
your own electronic music.

Our vision with this website is to promote Electronic Dance Music across
the world.


Join today and participate in some great Trance discussion!
Date Added: Apr 24, 2010 Visits:

156
© 2023 IsraTrance.com