Trance Mix - Explore the World of Trance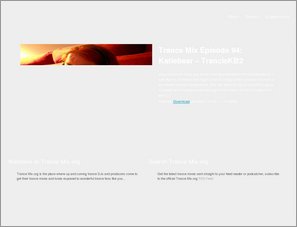 What is Trance Mix.org, and why should you care?

Trance Mix.org is the place where up and coming trance DJ's and producers come
to get their trance mixes and tunes exposed to wonderful trance fans like you.
The trance mixes and tunes featured on Trance Mix.org are potentially from the
future Armin Van Buuren's, Ferry Corsten's and Markus Schulz' etc. This is all
dependent on you, the listener.

Trance Mix.org mixes up the trance world by giving up and coming trance DJ's and
producers leverage by bringing them all to once place so that you can enjoy
nothing but the best today's up and coming trance DJ's and producers have to
offer. So all you have to do is click the iTunes or orange RSS subscribe button
on your right and you will automatically have endless supplies of the best in
trance delivered straight to you.

How is it that these trance DJ's and producer's success depends on you?

Well, the more listener's Trance Mix.org gets like you, the more popular these
DJ's and producers...
Date Added: Jun 20, 2010 Visits:

186
© 2023 IsraTrance.com