Unoccupied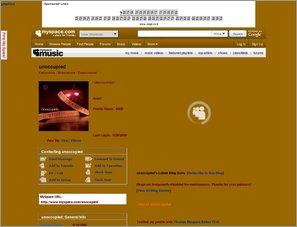 Unoccupied are the talented duo of Nadav Katz & Eitan Reiter, based in the north of Israel. Both are diverse artists and each has been taking part in numerous musical projects in a wide spectrum of styles.

Nadav has started his musical career long ago, he's mostly an autodidact and has been playing Guitars, Keyboards and Synths, Bass and Drums in many projects both in the studio and on stage. Since 1999 he has been working as a sound engineer, and programmer. For the last few years he is also working as a mastering engineer, and for a while was running a school for music production.
Nadav also produced quite a few projects and artists, in both the Israeli mainstream and indie rock & pop scenes, and of course in the electronic music world. Among the projects he took part in under his different hats are Violet Vision, Kob, Mode 7 and Que, to mention a few. And he worked with labels such as NMC, Earsay, Hed Arzi, Nana Disc, Aleph Zero, XL Recordings, Iboga, BNE & Magnanimous.

Eitan is also a multitalented genre-crossing artist. Eitan grew up in a musical house, his father being a guitar player and teaching guitar. By the age of 15 he was grabbed by electronic and dance music and started to compose using the infamous Impulse Tracker. He is part of the Loud project with Kobi Toledano, and they are considered by many to be the rising force in the psychedelic trance scene, working now on their third album, and constantly touring around the world. Eitan also produces techno and electro music under his own name, and has some upcoming releases on a few labels. On top of that he also writes downtempo electronic and psychedelic chillout music under his own name, and is now working on his debut album to be released in Aleph Zero in 2009.

The guys have known each other and have been good friends since school days, but a chance reunion three years ago after a few years they have drifted in different directions gave birth to unoccupied. The project started as a fun thing in the studio and became more and more serious as things developed.

Unoccupied music beautifully combines the electronic and the acoustic, downtempo electronica and soft rock, ambient pop and alternative music, and is best defined as captivating.

Their debut album- Everyday Life- will be released with Aleph Zero in the end of 2008.

Date Added: Sep 29, 2008 Visits:

67
© 2022 IsraTrance.com