1 - 2 of 2 results:
Us3
Us3 is an Acid Jazz Rap/Hip Hop group founded in London in 1991. Their name was inspired by a Horace Parlan recording produced by Alfred Lion, the founder of Blue Note Records. On their debut, Hand on the Torch, Us3 used samples from the Blue Note Catalog
Date Added:Dec 29, 2008 Visits:10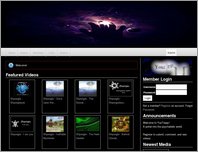 YouTrippy
A portal into the psychedelic world.
Date Added:Jun 10, 2011 Visits:402