1 - 3 of 3 results:
Psyport
A Social Network created towards the global psychedelic community!
Date Added:Dec 29, 2008 Visits:783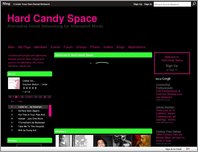 Hard Candy Space
Hard Candy Space is a social networking site for
alternative lifestyles. It aims to be used by
artists,event promoters to showcase their musics, photos,
videos and promote theirselves within the community for
free.
Date Added:Apr 24, 2009 Visits:387
PsyUniverse - The Psytrance Dimension
PsyUniverse is the Psytrance Music Dimension. A Psytrance Social Network
where you will find your friends, favorite artists, videos, photos, music
and lots more… This community is yours. Have fun trying all the features
available.
Date Added:Nov 8, 2009 Visits:752