1 - 2 of 2 results:
Axel Mundi Music
Axel Mundi, an American musician living in Washington State, composes and records music which he terms "psychedelic" and which has also been called "trance music", and offers it for sale on this site.
Date Added:Jan 5, 2009 Visits:13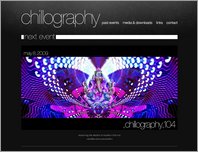 Chillography
Virtual home for the Chillography event series in Seattle, WA, USA. Find info about upcoming and past events, plus download high-quality recordings of Chillography sets.
Date Added:Apr 24, 2009 Visits:482