1 - 2 of 2 results: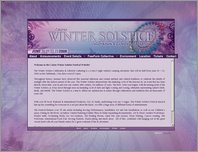 Cairns Winter Solstice Celebration & Lifestyle Gathering.
The Winter Solstice Celebration is a coming together of people,all ages & from all walks of life to celebrate being alive whilst embarking on 4 days of festivities, with entertaining ideas, arts, music & workshops, its an experience not to be miss
Date Added:Nov 21, 2008 Visits:45
Labyrinth Festival | 24th - 26th April 2009 | Cairns, Australia
After a break in 2008, Labyrinth Festival returns in 2009!!! Set amongst lush tropical surroundings, featuring a solid lineup of local & international acts...
Come join the "Night Sliders of the Apocalypse"!!!!
Date Added:Nov 22, 2008 Visits:71