1 - 3 of 3 results: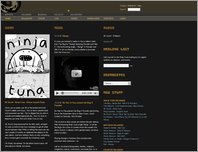 Ninja Tune
Ninja Tune is a London-based independent record label started in 1991 by DJs Matt Black and Jonathan More, better known as Coldcut, with a strong leaning towards electronic, abstract hip hop, instrumental hip hop, nu jazz, drum and bass, and chillout.
Date Added:Oct 1, 2008 Visits:796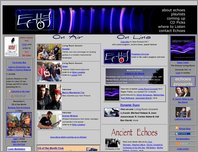 Echoes
ECHOES, is a daily two hour music soundscape of ambient and new acoustic music, heard on over 130+ radio stations across the country including New York City, Philadelphia, Cincinnati, St. Louis, Pittsburgh, and Orlando . Echoes is also on-line.
Date Added:Nov 20, 2008 Visits:298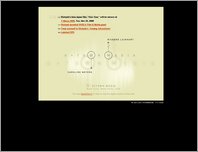 Richard Lainhart - O-Town Media
Website of Richard Lainhart, composer, performer, filmmaker, documenting his 35-year career in
electronic music. Offering free MP3s of many works from the 70s to the present, created on Moog,
Buchla, and Kyma synthesizers, among others.
Date Added:Nov 20, 2008 Visits:35